Some people like good wine.  Some people are into sports.  Some people do puzzles.  I happen to like preschool TV.  I like making it.  I like watching it.  I like writing about it.  So, it should come as no surprise to you that this week I'm launching a brand new initiative called "The Small Potatoes Animation Factory Tour."  It is, quite simply, the first and only media-literacy tour (that I know of) that takes families, school groups and fans behind the scenes to see first-hand how one of their favorite shows get made.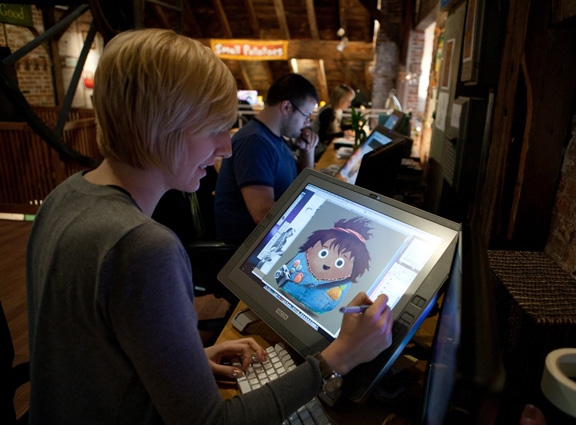 Our Small Potatoes tour takes visitors through our New York-based studio where they meet writers, storyboard artists, designers, producers and animators.  Each stop on the tour has one interactive component for the little ones, from helping to animate a character to recording their own voices singing along with the Small Potatoes.  We even have a Facebook stop on the tour where visitors can see how we run our popular Small Potatoes Facebook page and create custom potato avatars for our over 250,000 Facebook fans.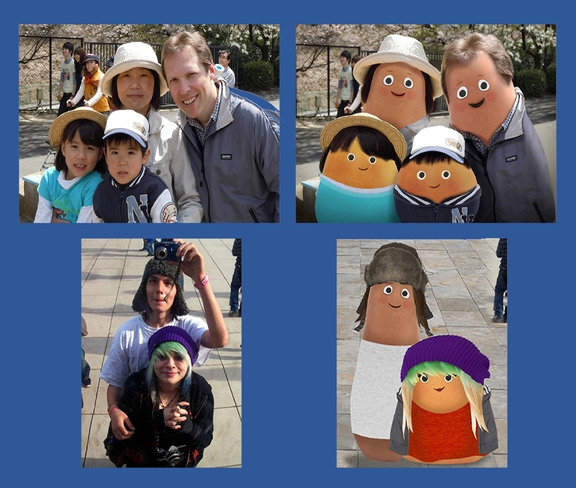 But the highlight of the tour is something really special that we've been working on for about a year now, "The Small Potatoes Hologram."  When our guests arrive on the fourth floor of our studio, they are seated on benches outside a beautiful red wooden barn.  The barn doors open and there, inside the little hayloft, families see the actual Small Potatoes singing songs from the show.  Now, I can't say I understand very much about the technology that has gone into making this hologram work, (you'll have to ask our brilliant IT director Malcolm about that), but I will say that the effect that he and our animation team have created is quite extraordinary.  We've shown it now to about 100 families during our beta testing and it's by far our most popular stop on the tour.
Why did we decide to run such a tour?  Don't we risk giving away all our secrets?  Well, I've always found the process of making a kids' show to be at least as interesting as the actual show itself.  In any creative environment, the rough drafts, the images that are tacked to the walls, the sounds from a recording session that filter up through the stairwells are, in my view, beautiful and well worth sharing.
We will run our tours every weekday starting December 1 and we invite you all to come by with your families the next time you're in New York.  We also donate tours to a variety of charitable auctions and offer discounts to public school groups.  As I've mentioned in previous blogs, this is the time to be experimenting with original content and, for us, the Small Potatoes Animation Factory Tour is just one more in a long line of our own Small Potatoes' experiments.