Be forewarned: you'll probably need a cup of coffee before you read this saga. It started on the morning of November 15, the day Starbucks unveiled their Cup Magic app. Like everything Starbucks, this was devised as yet another way to engage their customers and encourage interaction.
Despite not being a Millennial, I'm definitely the type of person that Starbucks covets. I use the name as a noun, verb, and adjective.  I buy the music they play. I admire their designer cups and water bottles. I've sampled their sandwiches and salads. And, when I periodically revise my "last supper" menu, a Gingerbread Latte with real whipped cream is always on my hallowed list. An augmented reality app was one step closer to Starbucks Eden.  I downloaded Cup Magic and headed to my local cafe.
As I waited in line (all part of the experience), I giddily downloaded the classic Starbucks app. This would let me pay for a latte with a swipe of my iPhone. My turn in line, I ordered a Grande and held up my phone. Uh oh. I needed a Starbucks card first. Luckily, they were right by the register. I grabbed one and handed the cashier $10. And my phone. Nope. I had to register the card. With a card number (check) and a security code (check). By now, people behind me were doing that snarky attitude dance that caffeine-deprived Starbucks customers know how to do so well. Plus, the barista had loudly called my name and placed my latte on the pick-up counter. I took a deep cleansing breath. I held up my phone again and voila! It swiped. I bought my latte. I grabbed the now lukewarm drink and sat down at a table to try Cup Magic.
According to the simple directions, all you need to do is target the app at a red cup and watch the magic unfold. I aimed my phone at the skater on my cup. Nothing happened. I waited. It said it could take up to 15 seconds to load. I counted Mississippis. Nothing happened. Maybe my hand was shaking too much. (Try holding an iPhone perfectly still at an awkward angle for 15 seconds. It's not easy.)
My friend Andy came over and asked what I was doing. He sat down and held out his cup. I aimed. It started snowing around the skaters! "I have a Vente," he said. Evidently, for skaters, you need a Vente. Who knew?  We looked around us and saw a woman with a Grande carolers cup. Aha! We pulled her over. Fifteen Mississippis later, the singing snowman came to life. The three of us cheered.
More people came over, and whipped out their phones and aimed them at their cups. In true marketing brilliance, only certain images work on certain sizes. Collect them all! The phone even tallies which ones you still need to find.  An irresistible challenge.  At least for a good ten minutes. Because once we figured out how to augment the reality, it was back to reality. I'd collected all the characters. And my latte was now cold. But all was not lost. I made two new friends that I'm going to meet for coffee next week. Guess where we're meeting.
Tell me how you've been augmenting your reality at wendy@sandboxsummit.org.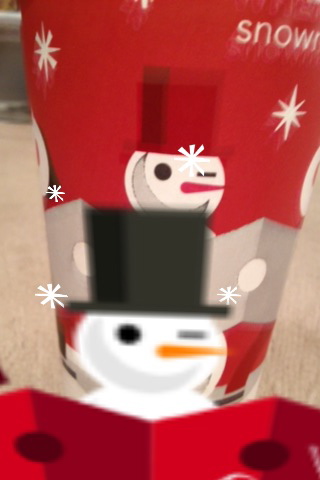 With a little help from my friends, I was able to bring the Starbucks Snowman to life. Check it out on Cup Magic.