Nintendo launches toy-integrated game
On the heels of Disney launching its line of iPad-compatible toys, gaming giant Nintendo is trying its hand at virtual-toy integration as the company looks to combat falling hardware sales.
In comes Wappy Dog, the first video game-controller toy pet that was developed and published for the Nintendo DS platform by Activision Publishing in association with Sega Toys.
Available today for US$50, Wappy Dog combines virtual and physical pet companionship, including both an electronic toy dog and a coinciding Nintendo DS video game. The toy and video game are synced via features like a microphone and touch sensors.
Players can raise Wappy through five distinct age phases, from playful puppy to full-grown pooch, and the dog's voice, songs, and behavior all change to match its maturation level. Each pet provides a customizable experience including stickers that come bundled free with the game and the ability to choose digital accessories and color options. Because it is designed for the portable DS platform, the game also allows kids to switch between Travel and Home modes.
Magazine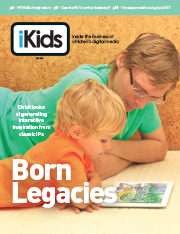 Check out our latest issue of iKids Digital! We've got the scoop on the rise of HTML5, Nintendo's Wii U strategy and new insights on how to best adapt classic properties for the digital age.
Kidscreen on Instagram