Just past Wall Street, at the very bottom of Broadway, there is a large bronze sculpture known as the "The Charging Bull."  As far as I can tell, this bull is a symbol of the energy and confidence of the nearby New York Stock Exchange and the various banks and financial institutions that surround it.  The bull is also a popular tourist destination and you can see people from all over the world getting their picture taken just beside it.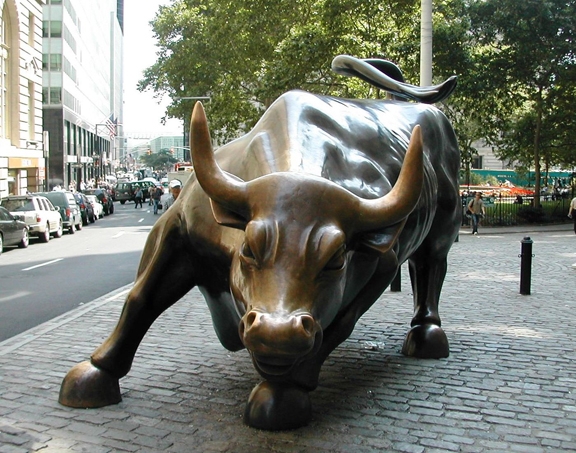 As I was walking past the bull the other day, I began wondering whether there might be an equally suitable animal that might symbolize our own humble children's media industry.  After much internal debate, and after Googling a wide variety of animals, I feel pretty confident that I have now narrowed the field down to just three.  Each one, I believe, has its own strengths and weaknesses, and I'd encourage you all to weigh in on which animal, if any, you feel best captures our collective essence in the way the "The Charging Bull" captures the U.S. financial sector.
The Blue Footed Booby
The Blue Footed Booby is perhaps best know for its tendency to look rather silly as it struts about on the rocks of the Galapagos Islands.  According to Wikipedia, the name booby comes from the Spanish term "bobo" which means "fool" or "clown."  As someone who has strutted along the Croissette for many years with a heavy sack of show bibles featuring singing and dancing potatoes, I believe I am well-qualified to nominate the Booby as our industry's proud symbol.  After all, what other creature besides the Booby better embodies our own unique combination of self-importance, Darwinian survival instincts and silliness?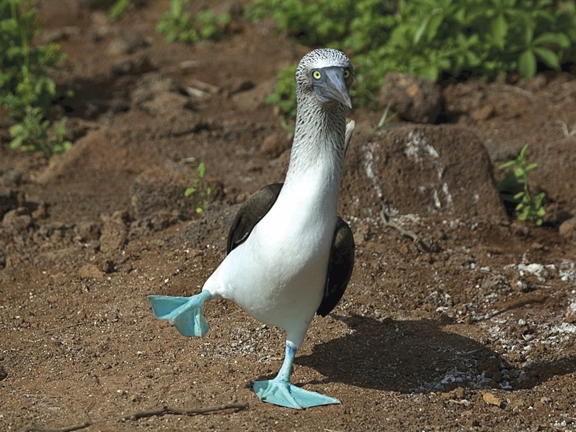 The Lemming
The Lemming was a fairly obvious candidate as this rodent is perhaps best known for its tendency to follow others rather than show much creativity or individuality of its own.  There have been many reported cases of lemmings following other lemmings off cliffs rather than mustering the courage to choose a direction for themselves, even if this meant ultimately losing their lives.  I believe, in our current age of "toyetic" properties and predictable, dull animation styles, the lemming is a clear front-runner for the animal that best embodies our own creative spirit.
The Honey Ant
I first encountered Honey Ants on a backpacking trip through the wilds of the Australian Outback some twenty years ago.  What struck me about the Honey Ant was its ability to do two seemingly contradictory things at the very same time:  1) It produces a very sweet honey-like substance that makes you happy, and; 2) For no apparent reason, it bites you very hard, thus making you sad.  As if these very troubling mixed signals were not enough to nominate the Honey Ant as the symbol of our own cruel industry, the Honey Ant has another feature that's shared by so many of us:  A rather large behind.  Now, the Honey Ant has a big butt because that's where he stores his honey.  We, on the other hand, tend to be bottom heavy because we spend our days sitting in soft chairs, answering e-mails, giving script notes and, in my case, blogging.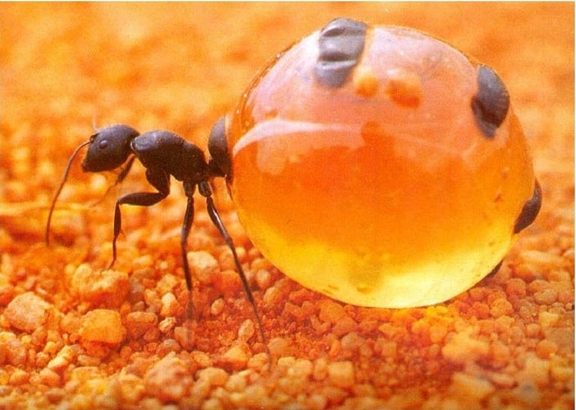 If I've neglected your own preferred animal (the aardvark?  the slug?  the shark?), I apologize.  I'm sure there are some people who believe we are more like larks than lemmings, or butterflies than boobies, but I'm afraid those folks simply have not been in the business long enough.  As always, I welcome (but don't expect) your comments.  And I look forward to seeing you and the rest of the herd in Cannes.