I find myself spending a lot of time lately weighing the plusses and minuses of being a plus-size company or a minus-size company.  Many of the full-figured indies appear to be dropping like dirigibles these days, apparently forced from the sky by the weight of their own considerable debt.  And many of the petite-sized companies aren't fairing much better, though they do appear to be more nimble, allowing them to stay alive (for now) by making things people like while living and working within their very modest means.
This posting is about the virtues of remaining small in a media world that can best be described as unpredictable, in flux and ripe for revolution.  For me, the best example of a small business that I believe will survive anything short of an asteroid is not in the media space at all, but in the equally precarious restaurant industry.  It is Adel's #1 Best Halal Food, a metal cart on the corner of Front Street and Maiden Lane, a few blocks south of Little Airplane.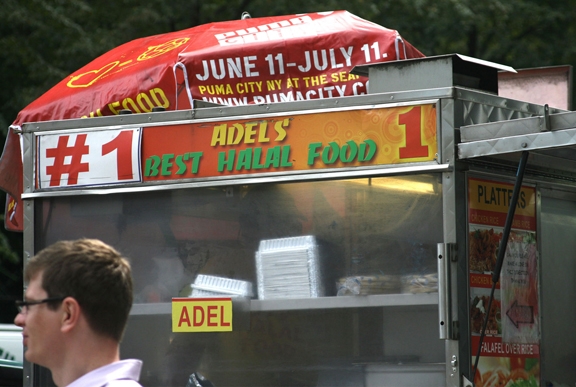 I have never met Adel, but I have to say that what he can accomplish on a gas grill using only a metal spatula and a few tubes of homemade sauce is nothing short of miraculous.  His lamb and chicken platter over "spicy rice" is among the best things I have ever tasted in my life.  And, as the line around the block at Adel's #1 Best Halal Food attests, I am not alone in my appreciation of Adel's culinary gifts.
I found myself wondering why Adel has thrived in our neighborhood while so many other larger, better-funded restaurants with well-known chefs have come and gone like back-packers on Bali.  And I came up with three factors that I believe contribute to Adel's extraordinary success.  These have obvious correlations to our own troubled kids' industry, but I'll leave it to you to connect the dots.
Quality
Adel appears to be focused completely on just one thing:  Making a great lunch.  And, not coincidentally, I and the other people on his line are all focused on something very similar, wanting a great lunch.  At Adel's cart, Adel is not distracted by all the mishigas that comes with a more traditional restaurant:  He does not have a lease, a liquor license, a chef or a waitstaff.  And he looks his loyal customers in the eyes every time he serves them.  Adel's size and his attention to detail allows him to deliver something that his competitors simply cannot:  Quality.
Low Overhead
Adel has costs like any other business:  The cart, the gas for the grill, the chicken, the lamb, the sauce, the rice.  But these are relatively modest.  And, when you consider that he sells one $7.00 platter roughly every 45 seconds for three hours almost every day of the year, this is a high "return on investment" by anyone's standards.  And the simple connection between what he spends and what he earns allows Adel to know exactly how his business is doing every day.  Unlike many other larger and more "sophisticated" restaurants, Adel has not constructed a big financial house of cards so he's on comparatively safe and solid ground.
Portability
Adel's cart moves depending on a wide variety of factors:  Competition, customers, construction, and city regulations, just to name a few.  His ability to make his delicious product pretty much anywhere that offers him a parking spot has allowed him to adapt in ways that other restaurants cannot.  Adel knows the best location can change daily, so being small and very mobile is critical to his success.
Of course there are benefits to being a media giant with offices around the planet, especially if you're one of the few vertically integrated broadcasters.  But, if you're an indie and you prefer to make and sell your own content, I believe you are far better off staying small and flexible.  Because great comedy writing, great design and great music cannot be institutionalized any more than great chicken and lamb or perfectly seasoned spicy rice.  These require the passion and focus of a very small team.  Just ask Adel.