Frank Mosvold is a friend of mine.  He runs a wonderful indie in Oslo called Kool Produktion that is currently making a very cute animated preschool series called, "Sunshine Kathy."  I got to know Frank quite well last year when I traveled to the port city of Kristiansand on the rocky coast of Norway to help run a children's television writing workshop.  I was very impressed by Frank and the other screenwriters I met there.  They had a quiet dignity that I really admired, and they were using their films and television shows to explore some pressing social issues.  I found this very refreshing and, as often happens on many such trips, I left Norway feeling like I had learned far more from the local writers than they had learned from me.
As we have all seen in the news, Norway suffered terribly last month from a bombing in Oslo followed by a savage attack against a group of young people on a camping trip. Frank's office is just blocks away from where the explosion took place, so I asked Frank if he would write a guest blog this week about how these events impacted him and his company.  Frank's very moving response reminded me yet again of just how closely connected our whole industry is.  Some indies look upon other indies as being competitors, but I think deep down we know that we're all family.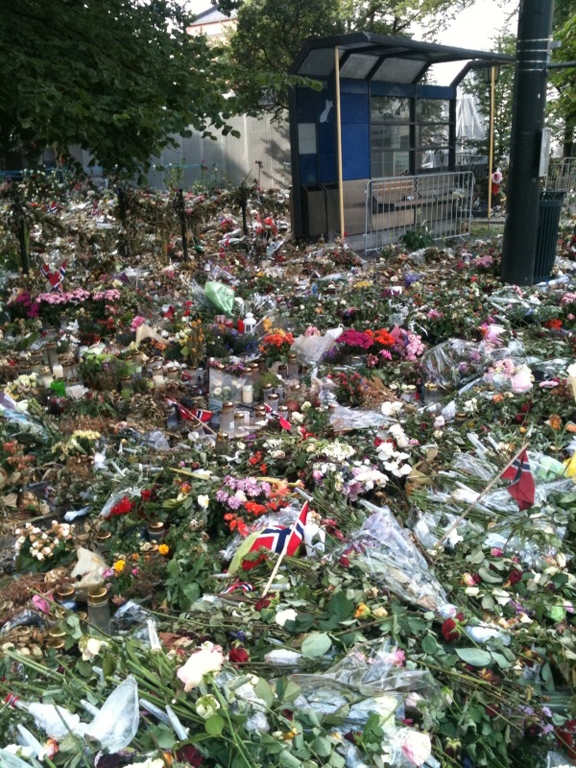 Like many many others, I quietly lay down a rose outside Oslo's main Cathedral.  Surrounding the church is an ocean of flowers and flickering candles.  The shooting on Utoya only a few days ago is too sad to grasp.  Sixty-nine young people attending a youth camp were shot down.  In Oslo eight people died in a bomb blast that targeted a central government building.
I do not often cry, but I cry now.  I look at the photographs of smiling young girls and boys placed among the roses.  I read the cards and notes placed there by young people saying a last goodbye to their lost friends.  Life can be so unfair.  In just one moment, an entire world can be turned upside down.
I was sitting in my office trying to find the perfect quacking sound for a web game when the bomb exploded just a few blocks away.  Before the reality of this event had sunk in, we were hearing reports of shooting at a youth camp several miles outside of Oslo.
At first everyone concluded that the bombing and shooting were a result of Norway´s foreign policy.  For a second the ugly shadow of hate and racism darkened the streets of Oslo, but not for long.
A red heart-shaped balloon sways in the wind outside the cathedral.  A few feet away I can see a young boy and girl.  They are holding onto each other.  They have been crying.  Strangely, the reaction of these young people gives me some comfort.  One of the young survivors from the youth camp expressed it beautifully, "If one man can show so much hate, imagine how much love we all can show together!"
Only a few days after the shooting, young people from all over the country came to participate in a Rose March.  More than 200,000 people carried roses and candles, determined not to let hate conquer love.  Crown Prince Haakon said in his speech, "Tonight the streets are filled with love."  The horrific event made all Norwegians feel like one family.  Finally all the politicians (even the right wing party) started to talk about making our country more open and inclusive.
As I leave the cathedral to go back to my office to find the perfect quack, my life has been changed.  Nothing is the same.  Life is fragile and only has a purpose through love.  We all need each other.
At noon we observe one minute of silence in the office.  We are holding hands.  We have never been closer.  I am thinking, we might only be creating entertainment for kids, yet our jobs are important too.  We can share stories and shows that exhibit love and compassion.  Our audience is the future.  We are but "candles in the wind."
Frank Mosvold
Producer
Kool Produktion AS
Oslo