New Peppa Pig app debuts on the iPad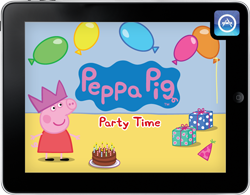 Interactive game publisher P2 Games has launched its third Peppa Pig app and first for the iPad, Peppa Pig's Party Time.
The app includes a collection of activities, mini-games (such as musical chairs) and an interactive scrap book that features the original characters, music and sound effects from the TV show.
The game is the first to come out of a recent license extension with brand-owner Entertainment One.  P2 was responsible for the first Peppa Pig app, Happy Mrs Chicken, which launched in September 2010. Overall, total Peppa Pig app sales have now surpassed 200,000 downloads.
Magazine
Our fall edition of iKids Digital is now available! We're taking a look at the migration of virtual worlds to mobile, how to find success in the mobile education space, wearable tech for kids and much more.
Kidscreen on Instagram