New N.B.T. hits radios this fall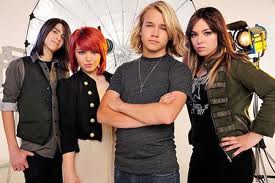 The fourth season of radio talent search N.B.T. (Next Big Thing) will kick off on Radio Disney on October 14.
The daily multiplatform talent showcase, which launched the careers of Kicking Daisies (pictured), Coco Jones and Hollywood Records recording artists Allstar Weekend, puts the spotlight on aspiring young recording artists and provides them with the chance to showcase their music across national broadcast and online platforms.
The show's fourth season will introduce new voting elements. Over the course of 10 weeks, Radio Disney and Disney Channel audiences will be invited to listen and vote for their favorite artist at RadioDisney.com or on the Radio Disney Facebook page,  or through texting NBT to DISNEY (347639).  The winner will have their single released by Disney Music Group.
The artists, who range in age from 13 to 17, include country singer Tay Barton, 13-year-old pop singer Zack Montana, 16-year-old Ladina Spence, pop singer Shealeigh and pop/rock band Hollywood Ending.
Magazine
Check out our latest issue of iKids Digital! We've got the scoop on the latest social media marketing tactics, the tablets that kids and parents can't put down, and new insights on how youth are using social networking sites.
Kidscreen on Instagram