My fear and loathing of licensing goes back to my early days at Sesame Street where I was taught that a preschool series and its educational curriculum was paramount.  All the rest, the amusement parks, the live shows, the closets full of swag that were protected like gold in Fort Knox, meant nothing compared to the Holy Grail that was the show itself.  We, the makers of Sesame Street, felt our show to be the sun around which everything else in the company (if not the world) orbited and, quite frankly, the wider their orbit the better.  We were the caretakers of Sesame Street, the undisputed Barbra Streisand of all preschool shows.
Well, Sesame Street was great.  And is great.  But the world around it has changed the way a city grows up around a church, dwarfing its once majestic steeple.  These days, all preschool shows are the planets orbiting around the sun, and that sun is licensing.  The natural result of this shift is that the content of preschool shows, once the protected realm of creative people and educators, is now heavily influenced by commercially minded folks who often (and wrongly) believe that what makes a good toy should also make a good show.  This has led to a large crop of unfortunate shows designed around play patterns and starring enough vehicles to shut down the Holland Tunnel.
Is it still possible to make a great preschool show that can also turn a profit on licensed products?  I believe so.  And this is why I decided to spend a few days in that steamy pinball machine of a city, Las Vegas, rolling the dice at the licensing tables of the Mandalay Bay.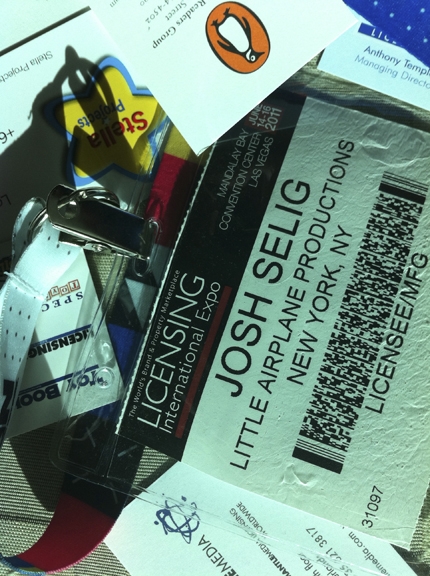 If there was a single moment that crystallized my first real Licensing Show, it was my meeting with one of the toy companies which, due to some scheduling confusion, took place in an aisle of the showroom floor.  By the time we found one another, we had just seven minutes left and not enough chairs.  So, while the two buyers sat comfortably on a couch, I got down on my knees and pitched them Small Potatoes, touting my characters' passion for dress up and cute vehicles.  Yes, it's fair to say that, in more ways than one, I was brought to my knees at Licensing Show.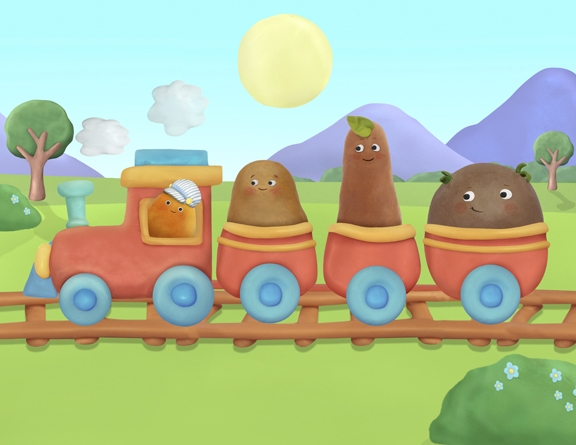 I am now back at the airport in Las Vegas.  Licensing show is over.  I'm heading now to Los Angeles for a voice over and more meetings.  Though I didn't drink during my three days in Las Vegas, I feel completely hung over.  I feel like I am in the wake of a very big boat that has just passed, leaving the waters beneath me choppy and unsettled.
There is no doubt that Licensing Show was a worthwhile adventure.  It is absolutely the place where the business of show business happens.  It's an extremely well-run and well-attended event, and I feel confident that I even made a few deals this week.  But I've been trying to figure out why I feel so troubled by the experience, and I think this is it:  Both Las Vegas and Licensing Show are places that celebrate bigness.  Big signs.  Big booths.  Big drinks.  And I realize that I am just not big on bigness.  I prefer small things.  A beautifully designed character.  A well-written joke.  A good song.  For me, these are the things that make a preschool show great.  But when you scale them up, when you slap them on pieces of plastic and mass produce them, they lose their texture and their personal touch.  They become, to me, just as soulless as, well, Las Vegas.