Last month, the Sandbox Summit@MIT Game Changers conference asked whether kids need more or less technology. While the majority of the people in the room probably said 'more' (it was MIT, after all), the answer isn't that simple. In a discussion led by e-Line's Alan Gershenfeld, with multi-screen panelists from PBS Kids Interactive, Microsoft, and Barnes & Noble.com, the participants considered the fine line between new media that's mind-boggling and that which is mind-numbing.
Every discussion like this always boils down to a love/hate relationship with technology. Yes, technology is a necessity. Kids need to learn how to manipulate their way through 21st century skills. Yes, technology can be addictive. Kids need to be encouraged to turn it off and play in real time in real places. So what can we, as makers and miners, distributors and users of kids' media do?
For starters:
1.          Create such imaginative, inspiring, and innovative new media that kids can't wait to engage.
2.           Build natural restraints into the products– a character in the game that suggests taking a break, a dictionary in an e-book, an off-line element of play.
In this golden age of transmedia, it's no longer a question of more or less tech, but rather better tech to balance kids' media diets. Check out a couple of smart examples I've seen:
Vanished, the ARG developed by MIT's Education Arcade and The Smithsonian Museum; Callaway Digital Arts' Miss Spider's Bedtime Story; and LionTV's Horrible Histories on BBC.
Miss Spider's Bedtime Story by Callabway Digital Arts turns a favorite tale into an immersive play experience. Starting with the rich content of a good story, CDA distills the essence of the Miss Spider brand using the technology of an iPhone and iPad.
Vanished, an episodic ARG developed by MIT and The Smithsonian Museum challenges kids to figure out the cause of an environmental disaster using on-line games and puzzles, as well as off-line museum visits, activities, and scientific deduction. Vanished started with 3000 players in its first week, and doubled that number within two weeks.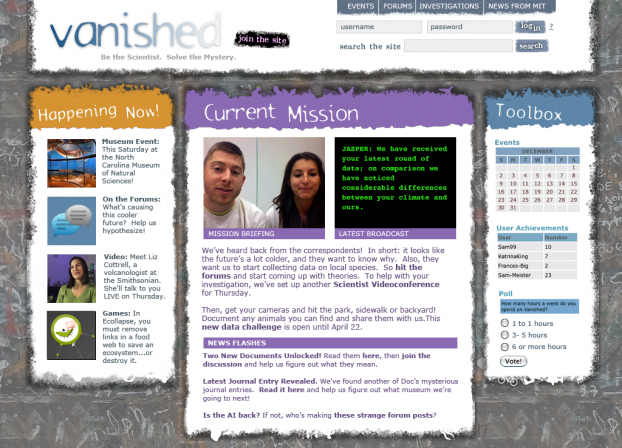 LionTV's Horrible Histories on BBC engages kids by spinning historical facts using outrageous songs, elaborate costumes, and gruesome humor. Think Monty Python meets Schoolhouse Rock.
Send me what you've seen that's great (or not). I'm itching to get my hands on it. Email: wendy@sandboxsummit.org.