Bazooka transforms film into branded candy, online game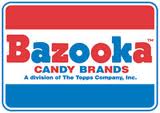 The upcoming Transformers: Dark of the Moon feature film is the center of a new multi-platform Bazooka campaign. Bazooka Candy Brands has teamed up with the Hasbro franchise to launch a promotional program that includes themed candy packaging, in-store merchandising and a custom online game at Candymania.com.
Starting this month, Bazooka non-chocolate candies such as Ring Pop, Juicy Drop Pop, Baby Bottle Pop and Jumbo Push Pop will feature special Transformers-inspired flavors and character graphics.
Consumers will also get a piece of the new multi-level game that provides an option to play in 3D. Bazooka products will be integrated into the game, as well.  Kids will be directed to the game through a TV spot that will feature all four candy brands as well as footage from the film and the online game.  The spot will debut in June and will air through the release weekend of Transformers: Dark of the Moon.
Hasbro and Paramount Pictures' Transformers: Dark of the Moon will be released in 3D on July 1. It's the third film in the franchise.
For more information in the Contact directory:
Hasbro Inc, Paramount Pictures Production Division
Magazine
Check out our latest issue of iKids Digital! We've got the scoop on the latest social media marketing tactics, the tablets that kids and parents can't put down, and new insights on how youth are using social networking sites.
Kidscreen on Instagram