There's been a lot of noise about the launch of "Small Potatoes" this week and much of it has been made by me.  One of the many benefits of a liberal arts degree is that you learn how to write.  And one of the many benefits of writing is that you can write about yourself.  That may sound immodest to some of you, but when it comes to launching a new preschool show, I'm not sure that modesty would be the most fruitful strategy.  ("If you have nothing better to do on weekdays at 9:40 am & 1:40 pm, then our new show on CBeebies is perhaps not the worst thing you could look at.")  Many years ago, while working in Israel and Palestine, I learned a saying that I have always liked:  "If I am not for myself, than who will be for me?"  And so, like any good indie, I am very much for myself and my "Small Potatoes." Could I really afford not to be?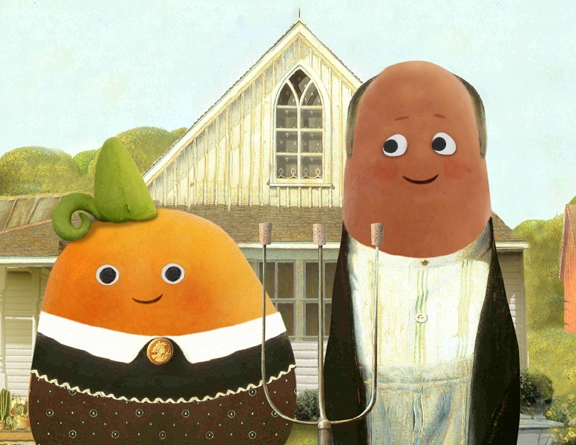 As my staff will readily attest, I am not a technical person.  I even have trouble with things like telephones and teapots.  And, much to the disappointment of Malcolm, our brilliant IT Director, my password for everything is 1234.  And I have actually forgotten it many times, usually when I'm overseas.  On those occasions, I call Malcolm's cell phone late at night and say, "Sorry, what was it again?"  And though he patiently responds "1-2-3-4″, I can always tell he's thinking, "How did you ever get this far?"
So, given my struggles with modernity, it may come as a surprise to some of you that I've become something of a savant on "Facebook."  Unlike some folks, I don't use Facebook to publish the details of my breakfast or the fact that my dog just gave me her paw.  (I reserve those particular triumphs for my KidScreen blog.)  But I do use Facebook for one reason and one reason only:  To promote "Small Potatoes."  As reported in Licensing.biz (albeit by me), we now have over 13,500 fans on our "Small Potatoes" Facebook page and we have amassed each and every one of them before our show even launched on CBeebies.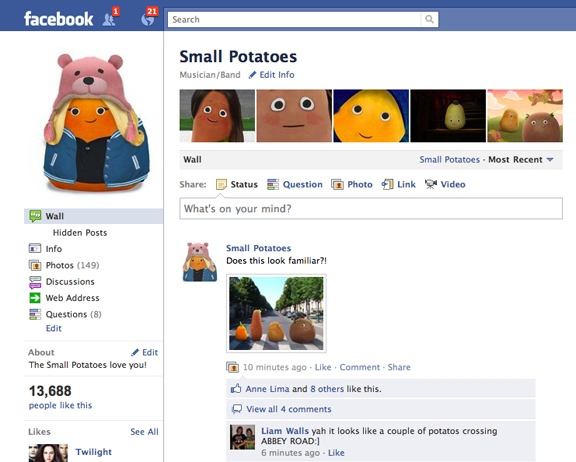 How did we do it?  It was actually pretty easy.  We simply set up our Facebook page, tried out a variety of games and activities we came up with during our staff meetings, and then watched closely to see which ones the fans liked best.  One of their favorites is "Small Potatoes' Story Time," in which we begin a story that our fans and their caregivers help us complete with their own postings.  Another favorite is "Name-A-Potato" in which we post a sweet new potato character and our fans have to help us name it.  (The moms seem to particularly enjoy this one.)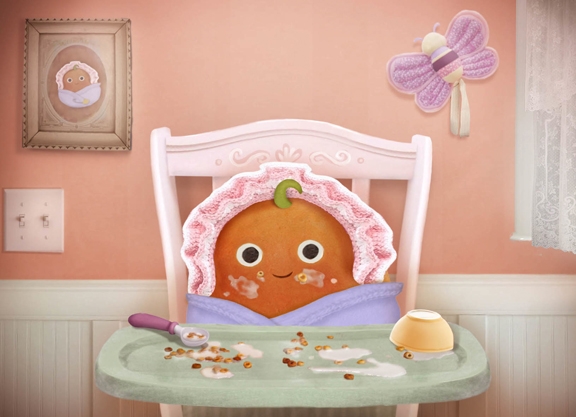 But a few months back we stumbled upon something of a game changer for our page.  One of our fans made the simple request that we turn them into a potato.  So, using their Facebook image for reference, our Little Airplane designers happily obliged and turned the kid into a cute potato.  We posted the resulting "potato avatar" on our page and our fans went absolutely wild.  Now, we fill dozens of requests for custom potatoes daily.  We post them on our page and our fans typically adopt their potatoes as their Facebook avatars.  The end result is that our potatoes are everywhere.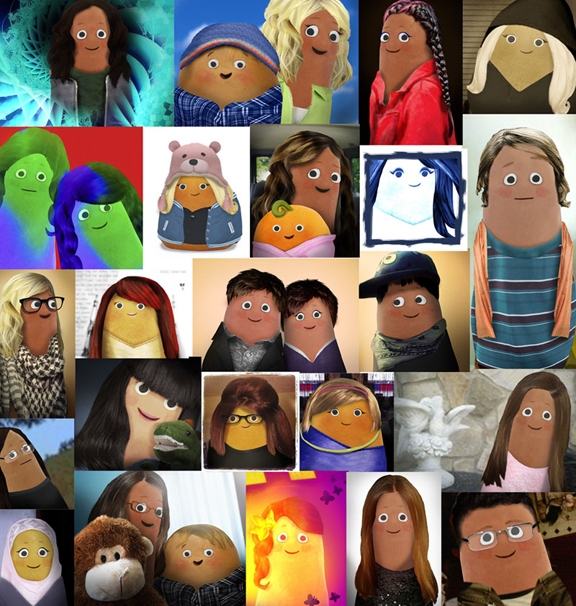 Our Facebook strategy, if you can even call it that, has been very simple:  We just listen to our fans.  We read and respond to every single one of their postings with a quick sentences or two.  Sometimes we just post a cute potato emoticon to let them know that we heard them.  ('.')  (Even this emoticon was suggested by one of our fans.)  We have been really impressed by the level of fan loyalty that our approach has inspired.  Here's a posting we received from a fan just last week:
"small potatoes you lift me up whenever im down . you have made me laugh and cheer me with your words and pictures

you are the kind of friend people long for , you have an uncanny ability to make light of every situation . you never cease to amaze me and i love you for all that you are and will be . small potatoes how would i be without you , you mean so much to me

lots of love ♥"
As we all know, promoting a preschool series can be a costly and complicated process, particularly when a show will air in a dozen or more territories across the globe.  Facebook has allowed us to promote our series everywhere, and a few simple tools like Google Translate have even allowed us to customize our postings on a country by country basis.  As a result, we now have as many "Small Potatoes" fans in Indonesia and Malaysia as we do in the United Kingdom and the United States.  And it's all free.
So, if you're curious, and I hope by now you are, I invite you to check out our "Small Potatoes" Facebook Page.
And please let us know what you think of the new show.  To be honest, I have never loved one of our series more than I love "Small Potatoes."  I really hope you'll enjoy it.