Nickelodeon's Monkey Quest makes official debut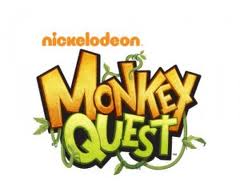 After two years in development, Nickelodeon has officially launched its latest kid-oriented virtual world, Monkey Quest.
Based on an original property, the free-to-play massively multiplayer online game (MMOG) is set in the World of Ook, a mysterious realm where monkeys rule and five tribes must band together against one dark force that threatens them all. The game offers a hybrid payment option for players who want an enhanced experience that offers additional access to trails, quests, abilities and other exclusive items. Subscriptions are offered at US$9.95 a month and US$79.95 for one year.
Nickelodeon is backing Monkey Quest with a full multi-platform marketing campaign that includes on-air advertising across Nickelodeon channels and sites like Nicktoons, Nick.com, AddictingGames.com and TeenNick.com.  The campaign will also include promotions, off-channel sampling and a movie-style trailer.
Monkey Quest was created in partnership with Behaviour Interactive and is the latest addition to Nickelodeon's virtual world portfolio that includes Neopets and Petpet Park.  Together, Petpet Park and Neopets attract more than 3 million monthly unique users in the US.
For more information in the Contact directory:
Nickelodeon
Magazine
Check out our latest issue of iKids Digital! We've got the scoop on the latest social media marketing tactics, the tablets that kids and parents can't put down, and new insights on how youth are using social networking sites.
Kidscreen on Instagram