I received many kind e-mails last week asking about Buffy's recovery, and I want to thank you all for your concern.  I'm happy to report that Buffy is now all better and her cone has been enshrined in her puppy memorabilia box along with her first collar and the remains of her now destroyed favorite toy, the "Kong Wubba."  Recovery aside, we did have one disturbing moment this week with Buffy when the lady in the pet store revealed to us that Buffy's chewy snack of choice was actually "a bully stick," which, she explained, as if it were a well-known fact, is another name for "a bull's penis."  Needless to say, Mary and I were disgusted and appalled, and we swore never to allow our little Buffy to chew on one again but, when we saw the sad, wistful look in her eyes (Buffy's, not the shopkeeper's), we decided to go ahead and buy her half-a-dozen of them.  Upon returning home, we thought it best to make some new house rules governing where Buffy could eat her special snacks.  So, moving forward, we told Buffy her "bully sticks" are not permitted on the furniture, in the kitchen, or on the bed, where the only bully stick allowed is my own.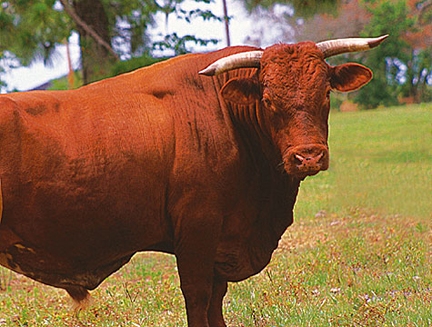 If you offer me a free flight to Rio and five nights in a nice hotel in exchange for attending a few meetings and being on a couple of panels, I will likely go to Rio.  In fact, I will definitely go, which is why I find myself at this very moment on board a TAM flight to attend the first-ever Rio Content Market.  By the end of this blog, I will actually know what the Rio Content Market is, but, for now, I just know that it's in Rio, and that I've never been to Rio, and that I want to go to Rio, and that it's warm in Rio.  New York City, on the other hand, has been a glacier since October, so this week your faithful blogger seized upon this invitation to head south for some defrosting.
My first meeting in Brazil was with a very nice, young entertainment lawyer.  I suggested that we go across the street from the hotel and sit at one of the many beachfront coconut shacks so I could recall what the sun felt like.  I wasn't aware that the guy had planned to show me a Power Point on his computer so, when his battery died, he was forced to ask the coconut shack man to allow him to plug in to one of his outlets.  Somehow this image of an ambitious young attorney in an expensive suit relying on the power source from a coconut shack summed up for me the extraordinary contradiction that is Brazil in 2011, a country that is both modern and traditional, high-tech and hand-made, up to the minute and a half-an-hour late.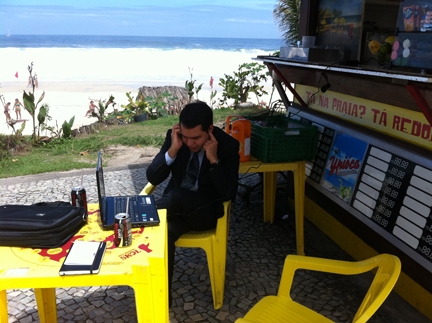 Like everything else in Rio, the conference had a relaxed and playful quality about it.  People laugh easily here.  They don't have much of a guard up to begin with, so it doesn't take much for them to let it down.  The distance between work and play, like the distance between the hotel and the beach, is very close so one moves effortlessly between the two.  By day three, I came to understand that the goal of the Rio Content Market was to create an event that, in the words of one organizer, "mixed all the best attributes of RealScreen and KidScreen, but with a focus on connecting Brazil to the various international markets."
And, from that point of view, it seemed to be a very big success.  I met folks from Nickelodeon and Cartoon Network, as well as local broadcasters TV Cultura and the great guys from TV Brasil.  My friend (and sometimes nemesis) Jeff Gomez, breezed through like a global Transmedia missionary and, no sooner had he landed in Rio than he was off again to create entire worlds for the good people of Malmö, the third most populous city in Sweden.  Sandrine Pechels de Saint Sardos (great name!) from distribution company Bejuba was here, as well as Rupert Harris from CBBC.  I also met economist turned animation mogul, Wes Lui, who runs House of Cool in Toronto.  There was actually a sizable contingent of Canadians here, including the head of the Canadian National Film Board, Tom Perlmutter who, I must say, is a really nice guy.  In fact, I've found that all Canadians are extremely nice, either by nature or nurture.  How this came about, I do not know.  Perhaps they're all just really happy that they're not Americans?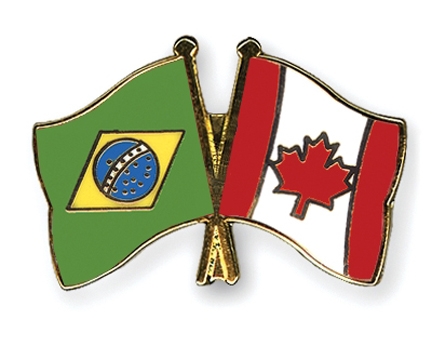 One Brazilian producer I met spent most of our meeting touting the virtues of the co-production treaty between Brazil and Canada, which he referred to (quite adorably) as "the treat."  This small but significant mispronunciation gave an otherwise dull and businessy meeting a whimsy that I found enjoyable.  "The treat is for both animation and live action," he explained, "and we use the treat to help raise our fundings.  We really like the treat in Brazil!"  I didn't have the heart to tell him that his "treat," like all the other "treats," doesn't allow an American like myself to even sharpen a pencil or order the pizza on any "treat co-productions."  But that's another blog.
I was actually in Brazil about a year and a half ago with my friends Cathy Chilco and Heather Kenyon as part of a training program for Brazilian animation studios.  Our goal back then was to help the local indies put together strong pitch bibles.  The highlight of this trip was discovering that one of those bibles had since led to a commission from Nickelodeon, Brazil.  The shorts, "Captain Constantine and the Salty Pudding Island," were created by the charismatic and very funny, Victor Canela.  It's a raucous tour de force 6 – 11 comedy about a group of motley and completely insane pirates and it's well worth checking out online.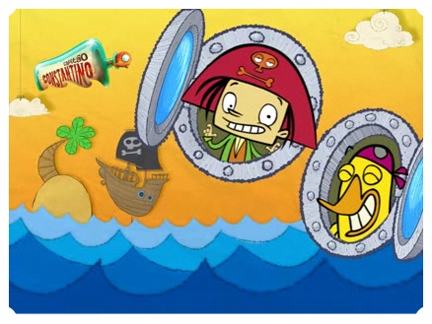 Another highlight of the trip for me was catching up with designer/animator/director Céu D'Ellia from Sao Paulo.  Céu left Dreamworks Studio in Los Angeles about ten years ago to pursue some his own projects in Brazil.  He showed me his latest reel, and I have to say, Céu's design and animation work is among the very best I've ever seen.  I also came across an extraordinary documentary called "Cruzeria", made by a reporter for the Rio Times named Patricia Maresch.  The film is about the lives of a group of young people living in one of Rio's largest slums, or "favelas."  You can see the film online and it's amazing.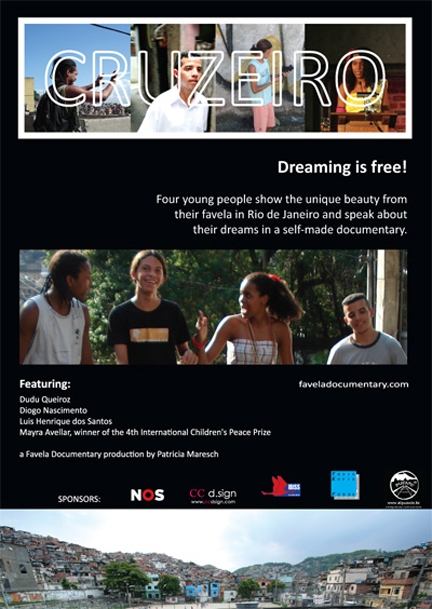 I am now on my TAM flight home from Rio.  I always leave Brazil feeling refreshed and inspired.  Refreshed because the warmth of the Brazilian people is truly intoxicating, and inspired because they are now making some of the most original and beautiful animation on the planet.  Is there still some work to be done to make the Rio Content Market worth the long flight here?  Yes, a little.  The Brazilians are not the best when it comes to time management or making sure their AV equipment and microphones deliver at key moments, but these are small things and I have no doubt they'll be sorted out long before the second Rio Content Market.  More importantly, from a business perspective, Brazil offers some of the best financial incentives and government support anywhere in the world.  And, since there's only a one hour time difference between Brazil and Toronto/New York, if you do business with Brazil, your team will be spared the 3:00 am "red-eye conference calls" that plague most international co-productions these days.
On my last day of the Rio Content market, I put my iPhone down on a table at one of the coconut shacks and soon it began to flash a message I had never ever seen before, "TEMPERATURE WARNING.  PLEASE COOL DOWN IPHONE."  I took this as sign that it was time for me to get home to Mary and Buffy and my big red chair where I usually write this blog and stare out at my beloved Hudson River.  So, Eliana, Kiko, Celia, Andre, Reynaldo, Jose, Silvio, Rogerio, and Jean:  Obrigado.  Congratulations on a very successful first Rio Content Market!