We got Buffy 'fixed' last week.  She's almost a year old now and the vet told us that it wasn't a good idea to have a girl dog in the city and not get her fixed.  I wish I could say everything went smoothly but, unfortunately, there was a problem.  The vet called on the afternoon of her surgery and said they wanted to keep Buffy overnight for 'observation.'
Apparently she had a very bad reaction to the anesthesia they gave her and "her eyes dilated and she began to drool," which, the vet said calmly and clinically, "is usually a sign of a neurolgical event."  Now, I'm no vet, but I have been in therapy long enough to know that a "neurological event" is not the kind of event you want your brain to have.
So, Buffy stayed at the vet and Mary and I stayed awake all night worrying and watching "The Dog Whisperer."  In the morning, the vet finally called and she sounded quite relieved.  She said that Buffy appeared to be back to normal and we could come and pick her up any time.  So we rushed over and got Buffy and she did seem okay, if perhaps a bit dazed and wobbly from all the drugs she was on.  Most importantly, her eyes were fine and she wasn't drooling.  The only big change, outside of her now being "spayed," is that she was wearing a transparent plastic cone on her head.  And that's what this blog is about:  Buffy's Cone.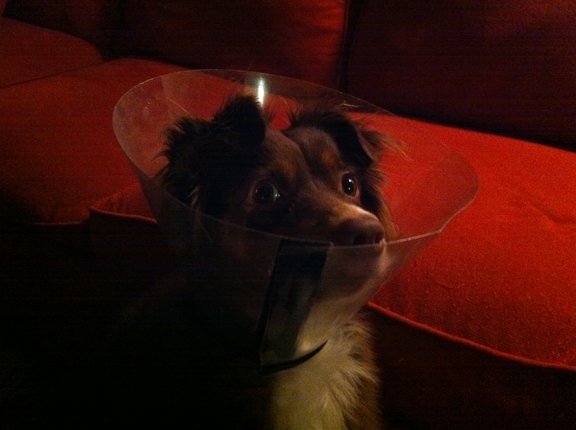 Now, the purpose of the cone is to prevent Buffy from trying to bite the spot where she had her operation.  In effect, the cone is there to protect Buffy from herself.  Perhaps coincidentally, while I was sitting with Buffy and her cone the other day, I came across a very interesting article on the New York Times website about something called "self-compassion."  The article focused primarily on weight loss issues and it explained that people who were "nice" to themselves and didn't judge themselves too harshly were not only happier people but they also had an easier time losing weight.  The article encouraged us all to treat ourselves as lovingly as we would treat our children or perhaps our dogs, and it concluded by saying that weight loss was just one of the many benefits of this kinder and gentler approach to living.
"Hmmm," I said to Buffy, "it's like the New York Times is saying that we should all wear a cone, of sorts, to prevent us from, emotionally speaking, nipping at ourselves all day."  Buffy was silent, but I could tell that she agreed with me.  This article resonated for yours truly because I'm someone who has a tendency to nip and bite at myself frequently, perhaps even all the time.  In fact, no matter how hard I work or how many times I Google myself, I can always hear Janet Jackson's voice somewhere in the back of my head saying, "What have you done for me lately?"
So, for me, this idea of "self-compassion" or, as I like to call it, "The Cone Of Compassion," was very appealing indeed.  I've been experimenting with it all week and, I must say, it's given me a lovely respite from my habit of pulling out all my own stitches.  In fact, the combination of the article, Buffy's brain being back to normal, and the bottle of good rum that the folks at SpeakeasyFX gave me at KidScreen, has left me feeling positively euphoric.
So, to all of my fellow kids' TV workaholics out there, which is pretty much all of you, I encourage you to ease up on yourselves a little.  Stop and smell the roses.  Take the long way home.  Don't force yourself to avoid clichés.  Because you are more than the work you do and the shows you make (or try to make.)  Take it from me, you'll be a lot happier and, who knows, you may even drop a few pounds.