I am sitting alone in an empty banquet room at the Hilton on Day 2 of the KidScreen Summit wondering why there were so many Amish people at Toy Fair.  I must have seen nine of them wandering around the Javitz Center.  At first, my colleague Joshua Kislevitz and I thought they must be actors dressed as Amish promoting some sort of Amish wooden toy line or Amish buggy set.  But, no, they were real Amish people, and they were walking the floor in their Amish hats and bonnets scrutinizing the toys like the rest of us.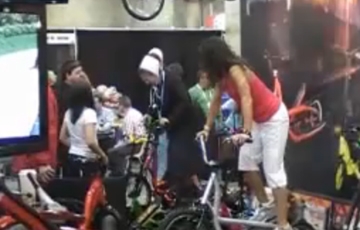 Now, I don't know much about the Amish beyond what I learned in "Witness," but if they shun electricity and computers, how did they manage to register on-line for Toy Fair?  And, if they don't ride in cars like the "English," why weren't there any buggies parked outside the Javitz?  Joshua reminded me that the Amish are required to take some time away from their farms to decide if they want to commit to being Amish their whole lives, and I recalled seeing a reality show in which a few of the more troubled Amish explored the darker side of American culture by drinking beer and making out in parking lots.  But perhaps these "Toy Fair Amish" were more ambitious than the reality TV Amish?  Perhaps they were using their precious time away from their farms to explore careers in licensing and consumer products?
In any event, this week has been full of many such surreal moments for your intrepid preschool TV blogger.  For instance, I took a walk in the park the other day to clear my head and I came across a wild turkey.  I don't expect you to believe me, so here is a picture of the turkey.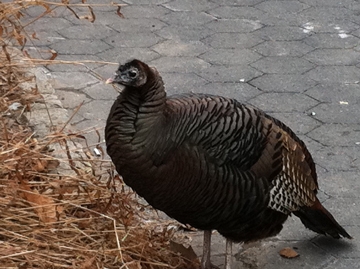 No less surreal was the pitch meeting I left just a few minutes ago in which a polite young executive from one of the larger European countries told me that she thought "Small Potatoes" was "too sophisticated" for her audience. I reminded her that it was a show about four singing potatoes, but she held her ground.  I couldn't help but wonder how sophisticated the kids in her country were?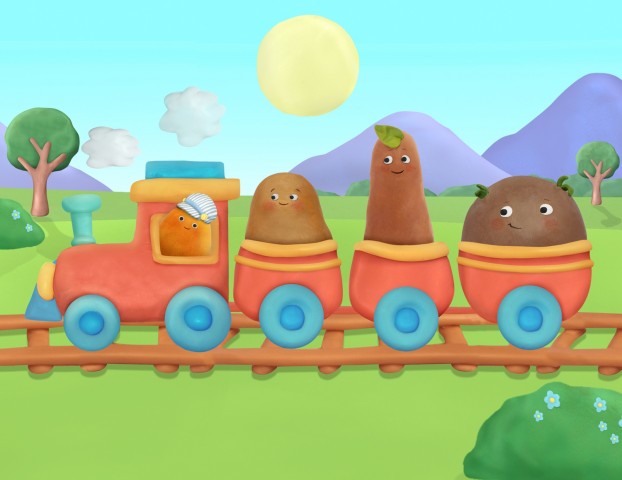 A few KidScreens ago I made up the word "froes," to describe all the folks you see at conferences who occupy that special place between being your "friend" and your "foe."  This year, I decided to make a special effort to be very nice to all my friends, foes and froes because life is just too short to hold any grudges.  I also tried to be nice to any newcomers because they're often very shy and in need of someone to help them understand what they've gotten themselves into.  But what does one do when one encounters a delegate who one simply does not want to engage with?
For them, you may want to try the "look away," a subtle but effective move in which you avert your eyes from any delegate you prefer not to see.  There is also the "look through," which you can use if you're too late for the "look away."  The "look through" basically involves looking right at the delegate but not actually registering them, as if you became preoccupied with some important thought at the very moment they passed by.  This one is harder to pull off but it can be very helpful, especially on escalators.
The tricky part of both the "look away" and the "look through" is that once you are aware they exist, you cannot help but realize that other folks are using these exact same tricks on you.  KidScreen is a dog-ignore-dog world.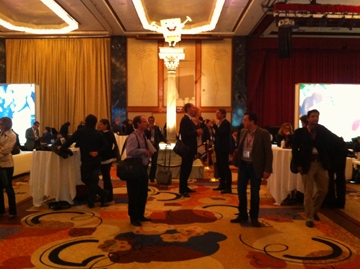 But I digress.  One of the many wonderful conversations I had at KidScreen this week was with Helen Hussey, the woman who ran the coat check on the second floor.  Helen asked me for a recommendation for a children's book for one of her grandchildren.  I told her that anything by Mo Willems would be an excellent choice.  She also asked if I thought that it was a good idea for kids to become actors and I told her it probably wasn't.  Helen said that this was her opinion as well.  We talked a bit about the false alarm in the Hilton and she told me her brother was a New York City firefighter which I thought was exciting as I have always had a lot of admiration for New York City firefighters.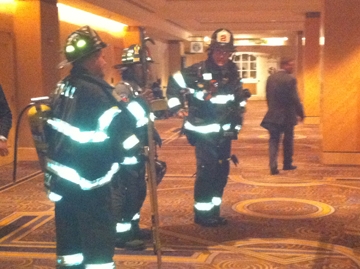 When I left Helen, I realized that my short conversation with her provided a nice counterpoint to all of my other KidScreen conversations simply because neither of us had any agenda for the meeting.  It was a genuine human exchange amidst all the hustle and schmooze, and I must say I found it quite rejuvenating.  So, thank you, Helen.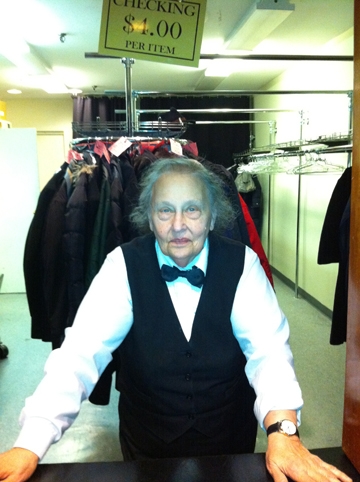 I spent my last evening at KidScreen drinking rum-based cocktails with my good froe J.J. Johnson from Sinking Ship Entertainment, purveyors of excellent preschool shows.  J.J. showed me the trailer for his latest show called "Anne's Droids," about a scrappy tween girl who builds very cool and interesting robots in her father's scrap metal yard.  It was beautiful and brilliant and, best of all, it is not intended for preschoolers.  So, I hope you will all join me in supporting J.J.'s efforts to leave preschool television behind because, quite frankly, who needs him?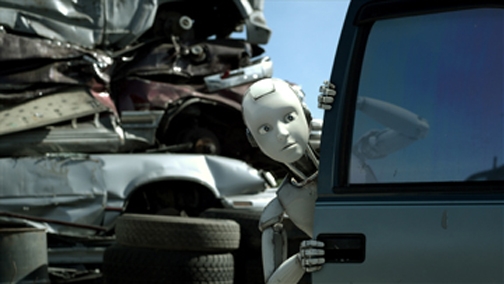 In closing, I'd like to give a great big thank you to my dear friend Jocelyn Christie and her extraordinary team at Brunico for running such an amazing KidScreen Summit.  It is, without a doubt, the best run kids' media conference in the world.  Congratulations, Joce, you make it look easy.
And now, I'm going to go and sleep for three days.