UK students tapped to illustrate new TV series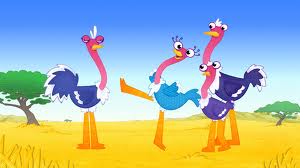 UK animation house Blue-Zoo is launching a new educational initiative with The Princes Foundation for Children & the Arts and Nickelodeon UK that will provide students with the chance to create artwork for the upcoming TV series Olive the Ostrich.
Through the initiative, under-funded schools across the UK will be provided with resources and content that help foster storytelling and art skills. The output from the schools will be used as props, backgrounds and characters in Olive's imaginary world and will be animated into 2-D for each episode.
Out of the 300 selected UK schools, 46 schools will be chosen as content creators for one episode each. The workshops will run in these selected schools as well on an online platform that will enable children to further engage with the show's creation process. Olive the Ostrich is scheduled to launch on Nickelodeon's preschool channel Nick Jr in 2011.
Magazine
Our fall edition of iKids Digital is now available! We're taking a look at the migration of virtual worlds to mobile, how to find success in the mobile education space, wearable tech for kids and much more.
Kidscreen on Instagram