Broadcasters are shoppers.  And, like all shoppers, they have a limited amount of money and a list of things that they need to buy.  So, when they show up at a market, what they are mostly thinking about is what's on their list.  And, when you're pitching them, they know almost immediately whether what you're pitching is on their list or not.  This is why they often glaze over after the first two minutes.
Many indies spend a lot of time trying to match what's on buyers' lists, a terrible strategy in my view for two reasons:  1) Because the lists are quite public, they create a stampede of ideas that are variations of the same show, thus reducing the chances that your show will stand out, and; 2) If the only reason you're pitching a show is because it matches someone's list, then you'll be pitching a show that you don't actually love, which is one of the few ways to guarantee that your show will not be any good.
So then what do you pitch?  Well, here's the approach I take.  I just pitch the show that I really want to make.  Because, despite what's on their lists, broadcasters are notorious "impulse buyers."  They become enamored with a cute pair of pumps or a lovely éclair just like anyone else.  And so, every year, broadcasters pick up a few shows that simply excite them.  They take a show for themselves, and this small indulgence not only makes them feel quite happy but often provides a much needed breath of fresh air in their programming schedules.  In short, if your show is irresistible enough, then the logic of the list gives way to the passion of the creative executive.  And, make no mistake about it, the good ones are very creative.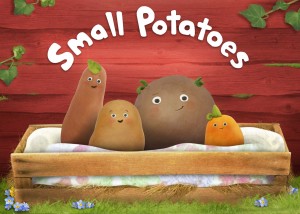 Admittedly, there are fewer and fewer creative executives who have the independence to make these kinds of impulse buys these days.  At many large production companies and networks, the roost is now ruled by licensing people who rarely have the same level of taste or sophistication that the seasoned development executives have.  They are far more proscribed in what they look for (vehicles and dress-up play patterns) and often fancy obviously toyetic shows with bright primary colors.  These usually make for painful viewing experiences and, therefore, rarely sell any toys.
So, as you pack up your bibles for KidScreen this week, I encourage you to pitch the show that you want to make rather than the show you think someone else wants to buy.  Because, the truth is, most people don't really know what they want to buy.  If they did, they would just ask someone to make them that show.  I think my favorite quote of all time on this subject comes from my friend Francois Deplank who used to buy shows for Canal+.  A few years ago on a panel at SPAA he was asked, "What kinds of shows are you looking to buy?"  Francois thought for a moment and then, with his lovely French accent, answered, "Good shows."